Credits and Copyrights
Bolded and italicized text throughout the pages reflect the author's emphasis.
Scripture quotations marked TEV are taken from the Good News Bible in Today's English Version- Second Edition, Copyright © 1992 by American Bible Society. Used by Permission.
Scripture quotations marked NLT are taken from the Holy Bible, New Living Translation, copyright © 1996. Used by permission of Tyndale House Publishers, Inc., Wheaton, Illinois 60189. All rights reserved.
Scripture quotations marked NRSV are from the New Revised Standard Version of the Bible © 1989 by the Division of Christian Education of the National Council of the Churches of Christ in the USA. Used by permission. All rights reserved.
Passages marked BCP are from the Book of Common Prayer -1979, the Protestant Episcopal Church in the United States of America.
Woodcuts are by Spyros Vassiliou, Athens, Greece, 1941-1945.
Detail of The Agony in the Garden by Andrea Mantegna,
1458-60.
All other content, © David Maddalena, 2001-2013. David is a pastor, Marriage and Family Therapist Intern (IMF 95005), artist, published author and poet, web developer, and educator living in Los Altos, California, USA. He holds a Masters of Divinity from Fuller Theological Seminary ('93), and a Masters of Clinical Psychology from Santa Clara University ('16). He has studied and taught around the world. Send an email with questions or comments. Learn more about David. Leave feedback here.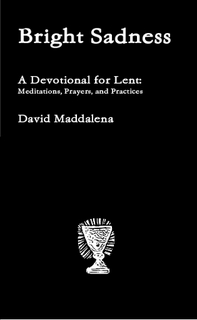 Purchase the book, "Bright Sadness", containing the latest edition of the Lent Devotional (print- and e-book available) at lulu.com
---
2001-2013 D. Maddalena
HOME | Lent Calendar | Kids | Fasting | Ash Wednesday | Week One | Week Two | Week Three | Week Four | Week Five | Passion Week | Palm Sunday | Maundy Thursday | Good Friday | Easter | Credits | Bright Sadness (the book)